Session Date and Time: 6/29/19 9:00 AM CST
Session Number: 112
What's Your Hook? Connecting the Dots in the Room
Look, listen, read, take notes, and sip coffee often for a short-lived thrill. These are the bland basics of professional development. In the cycle of adult-based instruction, participants follow PD guidelines, gather resources, and for the finale, archive said resources into a dusty box labeled: Professional Development. Why is this? Unfortunately, a great deal of planning, preparation, and budgeting has not made the intended impact. The solution is to create an awesome hook. A hook establishes a connection between the presenter and the audience. The audience connects with the content, and the content connects the group. Connecting the dots in the room, creates a lasting, user-friendly impression. The accountability to actively engage the content over a continuum is now in the hands of the audience. Bingo, you have connected all the dots.
Presenter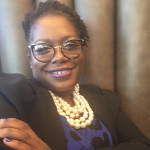 Sheniynah Richardson
Independent Consultant
Salutations! I am Sheniynah Richardson. I have been serving as an English teacher in critical needs schools in the states of MS and TN since 2008. Subsequently, I desired to make a stronger impact in education. In 2017, I received a M.Ed. in Educational Leadership from Concordia University, and began my journey as an entrepreneur. I developed SheRich Educational Consulting to strengthen principles of equity and effective integration of technology in the classroom. My ultimate vision is to provide consulting services at the state and federal levels.

@She.Rich.Edu

@SheniynahR

https://www.linkedin.com/in/sheniynah-richardson-95b143175
Session Themes
This session is good for: Instructional Coaches, District Professional Development Staff
This session poses answers to the following questions:
How do you get engagement in PD from 0 to 1 (getting started and getting people engaged)?