Session Date and Time: 6/29/19 9:00 AM CST
Session Number: 115
Setting up a Teach from Home Space
Recently, teaching was turned upside down for educators of all ages as they were forced to move from a classroom setting to remote teaching. Remote teaching requires working from an off-site location — such as your home — while establishing a congruent atmosphere without distractions for effective learning.

This session will help teachers overcome the difficulties associated with remote learning in order to promote an effective, efficient, and productive learning experience no matter what the environment presents. Also included are inspiring examples from other educators' experiences with classroom design and the use of computers and whiteboards.
Presenter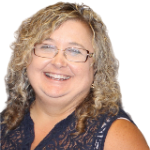 Ruth E Manlandro
Trainer Collaborator
Educational Collaborators
Ms. Manlandro began her teaching career as a computer science teacher at St. Augustine Diocesan Cathedral Parish school in 2003. The following year she continued as their technology director. At the diocesan level, she was involved with technology professional development of their teachers. In 2008, Ruth began serving with St. Johns County School District in Technology Support and provided Professional Development for teachers. Ruth has been teaching computer science at the College level since 2011. Ruth has conducted department and college level professional development during her time at the secondary level. Her primary focus is teaching Microsoft products since 2003, using a hands-on approach. Ruth has been a Microsoft Innovative Educator Expert and Master Trainer since 2016. Ruth is an Adobe Education Trainer for Adobe Creative Cloud. Ruth has been a Collaborator and Trainer since 2017 as well as running as Tutoring business. She is well versed in both Apple and PC products - computers, apps, and software.

@rmanlandro

Ruth-Manlandro