Session Date and Time: 6/29/19 11:15 AM CST
Session Number: 125
TechTime with Tom - Why sometimes we all need a little 1:1!
During the pandemic times, the face to face edTech coaching I provide to my teachers came to an abrupt halt. One on one time is often the most productive but is a time-intensive undertaking. In the traditional school setting, new edTech initiatives would be introduced in workshop style settings, or if time didn't allow at a quick - "Here's how you do this ..." style email. But now with so many teachers being forced to migrate to online environments that are not their comfort zone - those face to face opportunities moved online too! I would create a nice video, a how-to step by step 'clickexercise" - and yet the emails would still come: "How do I this new thing???" You wonder, I made a VIDEO, I made a Step by Step ... what more can I do?
Answer - TechTime with Tom. I would create 1/2 day blocks in my day that would have 1/2 hour appointments that teachers could book. We meet on "GOOGLE MEET" and stay very focused by the question "So what task are we trying to accomplish today?"
In this session, you will learn the structure of "TechTime with Tom" - how to prepare, how to run the sessions and important ... how to follow up.
These sessions are often the MOST popular for the teachers who need that quiet personal touch. Just like our students have different learning styles - some of them can watch a video, some can read a how to ... and some just need to be led through the process so they can DO as they learn! The online 1:1 via MEET has proven to be a great venue - I can help far more teachers than I could in the 1:1 in a school environment. They pick the time that works for them - we stay focused because they know they just have 1/2 hour before the next person arrives. Sometimes the early arrivals 'lurk' and learn too!
Presenter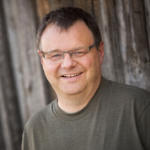 Tom Lademann
edTech Coach
Educational Collaborators
Hi! I'm Tom Lademann, and I am a technology professional. I have spent a lifetime exploring and learning how technology can make life better. From an early age I was fascinated with the technical aspect of anything I did. It's not all about computers: I also love to ski, bike, camp and take pictures and all the while I am leveraging the wonder that technology affords my many pursuits.
I hold a B Ed. and spent seven years at a private school teaching and mentoring high school students, living on campus as their "dorm dad." I got married and now have a family of my own. My wife, Heather, and I consider our two daughters our greatest treasures, and they are now out building independent lives and pursuing their passions.
Professionally I switched gears. I earned an MCSE and taught career-changing adults how to become certified networking professionals. Not content to stand still, I co-founded a successful technology service company and spent the next 15 years providing IT service for clients across a wide range of professions. My passion to teach is always at the surface, and I believe it's not enough to deliver a product: I make sure my clients know what they can do with it!
Over the past few years I have been working with schools to help them build a solid IT foundation and then leverage it to enable students to build 21st century skills. I have found the best way to do this is to get teachers and students to learn side by side to use technology as a tool to explore and create while immersed in their curriculum. LuminEd is my latest venture and is tightly focused on helping you to gain technical skills to make your pursuits more fulfilling.

@TL_luminare

https://www.linkedin.com/in/tom-lademann-31140b13/