Session Date and Time: 6/29/19 1:00 PM CST
Session Number: 132
Inspire Growth through Goal Setting and Targeted Feedback
Participants will dive into the value of reflective practice to see how it can optimize growth, transforming them into innovative teachers and leaders within their school community. Through the use of Visible Thinking Routines from Harvard's Project Zero and Thinking Maps, Inc. , participants will discover ways to set focused goals and document their professional growth. Finally, we will discuss the value of targeted feedback to help influence individual and collective growth.
Presenter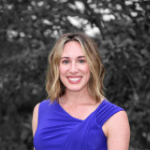 Genevieve Hoppe
Assistant Head of School
North Broward Preparatory School
Genevieve began her educational career in 2006 as a middle school Spanish teacher and has been working in K-12 education ever since. Over the course of her career she has taught 6th-10th grade, worked in athletics, served as an Assistant Middle School Director and held the position of Middle School Director. She joined North Broward Preparatory School in 2015 as the Middle School Principal and currently serves as the Assistant Head of School.
Genevieve's educational credentials include her Bachelor's degree in Spanish with a concentration in Business Administration from Furman University and a Masters of Modern Language from the University of Memphis. She is currently completing her certification from Harvard Graduate School of Education in School Management and Leadership. Genevieve believes in creating a culture of thinking and learning and has received certifications from Harvard Project Zero and Thinking Maps, is an Apple Teacher and a Google Certified Educator.
Genevieve has extensive experience in curriculum design and strategic planning, has worked on various school accreditation teams, rolled out one-to-one laptop and one-to-one iPad programs, worked in diverse school settings, and led national and international professional development in design thinking, experiential learning, and visible thinking.
Genevieve has a passion for education and working with young people and is a true advocate for schools, students, teachers, and families. She enjoys sharing this passion with her husband, Cole.

@ghoppe1216
Session Themes
This session is good for: Campus Administrators, Instructional Coaches, District Professional Development Staff
This session poses answers to the following questions:
How do you know what you need to learn to grow professionally?