Session Date and Time: 6/29/19 1:00 PM CST
Session Number: 133
Innovative Systems That Ignite Leader and Teacher Success
Igniting Teacher Achievement = Positive Impact on Student Success. This district and school leader focused session is geared toward strategies that builds teacher capacity and helps to create a campus full of teacher leaders. Packed with concepts that can be customized for any school, attendees will learn how to utilize their professional learning networks, campus leadership teams, and student data to navigate the hurdles of creating an engaging and sustainable professional learning system. Participants will leave with templates and resources to start growing their entire staff immediately!
Presenter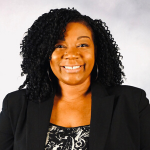 Deidre Hannible
Principal and Consultant
DeSoto ISD
Principal Deidre Hannible is an educational leader with nearly twenty years of experience serving students, teachers, and families from all walks of life. She believes in fostering positive and energetic environments where students and staff excel. Throughout her educational career, she has persistently developed, trained, and implemented curriculum and researched-based best practices to close student and teacher achievement gaps. She is currently a proud middle school principal in Texas, and the host of the podcast, Unapologetically Educated.
Session Themes
This session is good for: Campus Administrators, Instructional Coaches, District Professional Development Staff
This session poses answers to the following questions:
How do you lead a team to grow?
How do you get people started engaging in professional learning?