Session Date and Time: 6/29/19 1:00 PM CST
Session Number: 134
The Journey Begins: A Case Study
Mrs. Kara Genin has been in education for 7 years as a core teacher, math interventionist and now as an instructional coach. Mrs. Genin works at a small rural school in Southern Wisconsin in the town of Sharon. Sharon Community School services approximately 250 students in grades Pre-K to 8th.
At the start of the 2019-2020 school year, iInstructional coaching was a brand new dream of administration and when Mrs. Genin was approached by them to take on that role, she wholeheartedly agreed! The unknowns were numerous, but the challenge was just what she wanted.
Please join her in delving into her first year of coaching to experience her journey. You will learn the why and how Sharon started the instructional coaching program and its effects on the staff and students. You will learn about the process taken and the challenges that arose along the way. Most importantly, you will learn about the growth and success seen in educators and their students.
Presenter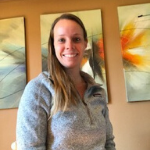 Kara Genin
Instructional Coach and Math Specialist
Sharon Community School District
Bachelor's Degree in Education with seven years experience in education. She spends her time with family and enjoys learning about new things. Kara has a passion for reading, the outdoors and animals.
"My initial work as an IC has been eye opening. I truly enjoy the endless opportunities for learning and teacher growth."
Session Themes
This session is good for: District Administrators, Instructional Coaches, Teachers (K-5), Teachers (6-8)
This session poses answers to the following questions:
How do you move from compliance driven participation to authentic engagement in professional learning?
How do you have productive collegial conversations?
How do you get people started engaging in professional learning?