Session Date and Time: 6/29/19 1:00 PM CST
Session Number: 136
Cultivating a Culture of Collaboration
Tips and Tools to cultivate collaboration for educators in teams and individually to ensure that professional development is ongoing. To think outside of the box and encourage leadership and transition in hybrid education.
Presenter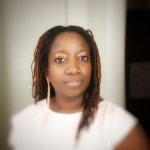 Benita Gordon
Educational Concierge
Gordon Global Educational Concierge
Benita C. Gordon was born and raised in a Lawrenceville, Virginia. She has always believed that becoming an educator in her DNA. She is an educator, edupreneur, and owner of Gordon Global Education Concierge, LLC. GGEC coordinates all aspects of and for education nationally and internationally. They focus is on concierge services, coaching, consulting and training of parents, educators, educational institutions and community stakeholders. She uses social media and technology to enhance the knowledge, collaboration and coaching of educators. To coordinate education in all aspects she has started a Podcast called The Education Concierge.
Ms. Gordon received her Bachelor of Arts degree from Hampton University. She has been in education for over 22 years and her experience includes teaching in rural schools in Virginia to urban schools in Florida, Virginia, Maryland and District of Columbia. Ms. Gordon's passion has allowed her to travel and live abroad to teach and train educators in the areas of English/Language Arts, Social Studies, Humanities, and Writing. She has found her niche and embraced the Middle School/Junior High School culture and continues to focus on how she can improve, expand, expose and connect her students to "real-life".
Ms. Gordon believes that it is necessary to guide people to find their niche in life.

www.facebook.com/GordonGlobalEducationConcierge

www.twitter.com/EduConciergeBG

https://www.linkedin.com/in/benita-c-gordon/
Session Themes
This session is good for: Instructional Coaches, District Professional Development Staff, Teachers (6-8)
This session poses answers to the following questions:
How do you lead a team to grow?
How do you grow when no one's leading professional growth?
How do you know what you need to learn to grow professionally?