Session Date and Time: 6/30/20 9:00 AM CST
Session Number: 252
Building expert learners rather than expert knowers among teachers and students
In this interactive session, you see how professional learning can put teachers in the driving seat as they learn about their own instruction. PEER Physics offers a comprehensive suite that includes curricular resources, professional learning, and long-term partnerships that lead to teacher community, pedagogical growth, and student success. This curriculum-focused, teacher-driven professional learning community mirrors the same pedagogical approach for teacher learning that students experience learning physics. This allows teachers to induce principles about the philosophy, pedagogy, and practices, similar to how students induce principles about physics. You will get a snapshot of the PD experiences that are strategically spread out over the course of the school year, cultivating cycles of learning, implementing, reflecting, and refining. You are encouraged to collaborate with each other asynchronously after our session to further grapple with and reflect on pedagogical approaches experienced in the PD.
Presenter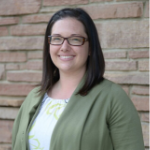 Emily Quinty
Director of Professional Learning
PEER Physics at CU Boulder
Emily Quinty cares deeply about inviting all students to participate in the process of inducing scientific principles from evidence and engaging in science practices, especially students who are traditionally underrepresented in science. She has experience teaching high school physics, earth science, biology, chemistry, computer programming and math in schools that serve culturally, linguistically, and socioeconomically diverse learners. She earned her undergraduate degree in Astrophysics from CU Boulder, became a Boettcher Teacher Resident, and graduated from the University of Denver with a Masters in Urban Education. As a NSF Master Teaching Fellow, Emily researched the impacts of explicit reflection prompts on learning and teaching, as well as identifying and analyzing actions of effective groups. Through her work as a staff developer at the Public Education and Business Coalition, Emily engaged K-12 educators of all content areas across the country in discussions about our roles as stewards of transformative educational experiences. She facilitated workshops and professional development about math, science, literacy and numeracy. For PEER Physics, Emily leads the professional learning design and facilitation. She supports teachers in transforming their instruction by utilizing the Cognitive Coaching® strategies. She provides ongoing training for the PEER Physics facilitators and coaches. She also leads the development of the PEER Physics teacher's guide and supporting resources.
Co-Presenter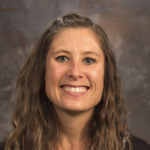 Shannon Wachowski
Shannon is a PEER Physics Facilitator and coach and currently works as the Career and Vocational Education Consultant at the Wyoming Department of Education. Previously, she served as the Academic Outreach Coordinator in the School of Teacher Education at the University of Wyoming where she supported pre-service teachers. In her 14-year career as an educator, Shannon has taught a variety of science and math classes in rural high school settings as well as facilitated professional development for teachers through her work with The POGIL Project and PEER Physics. Originally a chemical engineer, Shannon left industry to pursue a career of lifelong learning and helping others learn.Shannon Wachowski received her B.S. in Chemical Engineering from Michigan Technological University and her M.A. in Teaching from Oakland University.
Session Themes
This session is good for: District Administrators, Instructional Coaches, District Professional Development Staff, Teachers (6-8), Teachers (9-12)
This session poses answers to the following questions:
How do you move from compliance driven participation to authentic engagement in professional learning?
How do you get people started engaging in professional learning?