Session Date and Time: 6/30/20 9:00 AM CST
Session Number: 253
Leveraging Bright Spots , Moving to Equitable Teaching and Learning
Collaborative conversations highlighting the "bright spots" of the pandemic and how we can leverage them transform teaching and learning for learners of all ages.Participants will identify bright spots they have seen , heard or exxpereienced using a Jamboard whiteboard. I will share some of my own bright spots. And then we will begin to think togather about how we can leverage those bright spots to develop equitaable and accessible learning opportunties for all.
Presenter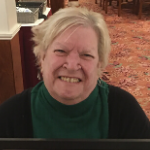 Kathy Renfrew
Virtual coach, science education specialist
Sibme Virtual Coaching
Kathy Renfrew is an experienced elementary teacher/educator who has been privileged to hold many roles in her career. She was an elementary teacher who moved to the Vermont Agency of Education as the Vermont Elementary Science Assessment Coordinator. Kathy returned to MA where she was an elementary science coach. Currently Kathy is an education specialist for the Wade Institute for Science Education, a virtual coach for Sibme, an EdReports reviewer and a science volunteer in a 2nd grade classroom. Kathy attended the University of Massachusetts in Amherst for her undergraduate degree in Human Development. She followed that with a M.Ed in Professional Teaching and a MS in K-8 Science Education.
Kathy is an active member of NSTA, CSSS and NSELA, She is a board member of the MA Science Educational Leadership Association.( MSELA)

https://www.facebook.com/krenfrew

@krsciencelady

Kathy Renfrew
Session Themes
This session is good for: Campus Administrators, District Administrators, Instructional Coaches, District Professional Development Staff, Teachers (K-5), Teachers (6-8), Teachers (9-12), University Faculty, University Field Supervisors, University Administrators
This session poses answers to the following questions:
How do you grow when no one's leading professional growth?
How do you know what you need to learn to grow professionally?