Session Date and Time: 6/30/20 9:00 AM CST
Session Number: 256
Developing Leaders to Help a Team Grow
This session will focus on developing leaders within teams to help a team grow professionally. This session was designed toward those wanting to start a Professional Learning Community (PLC) or are supporting a team that is struggling to make progress and accomplish their goals. Topics covered will include ideas and discussion on ways to encourage team members to:
L - Live Consistently
E - Encourage Dissent
A - Absorb Pain
D - Diagnose Problems
E - Extra Interests
R - Reality - Define It
S - Spur Relationships
Additional ideas for organizing and maintaining a PLC will also be discussed.
Presenter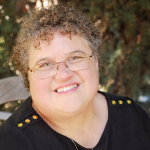 Christine McLaughlin
English Department Chair, IB MYP Coordinator, English Teacher
Pasadena Unified School District
Christine earned her Bachelor's degree, teaching credentials and a Master's of Education from Azusa Pacific University. She also holds an Educational Administrative Credential from Cal State, Los Angeles. Prior to teaching Christine worked as an accounting manager for several nonprofits. She currently teaches seventh grade English at Blair International Baccalaureate (IB) School in Pasadena, CA.
Her gifting and experience as an accounting manager allowed Christine to pursue many leadership roles including president of the School Site Council and IB Middle Years Coordinator. She also took part in writing curriculum for the district's transition to Common Core, provided professional development, lead a professional learning community to support the proper implementation of the IB program, and is currently English department chair for her school.
Christine has received several awards including Pasadena Rotary Teacher of Excellence, Pasadena Unified Teacher of the Year, Star Educator from the Altadena NAACP, and Distinguished Alumni from Azusa Pacific University.
Christine enjoys leading teachers to incorporate methods to improve classroom management, strategies to enhance relationships with students, and approaches to improve teaching practices. She is currently working with teachers at her school on systems to continue to grow the IB program at her school. In the future, Christine hopes to use her leadership skills as an elementary principal.

https://www.facebook.com/christine.mclaughlin.10
Session Themes
This session is good for: Campus Administrators, Instructional Coaches, District Professional Development Staff, Teachers (K-5), Teachers (6-8), Teachers (9-12)
This session poses answers to the following questions:
How do you lead a team to grow?