Session Date and Time: 6/30/20 11:15 AM CST
Session Number: 261
Human-Centered Professional Learning in STEM Education
The current pandemic has brought into focus the issue of where and how STEM teaching and learning take place. In the past months, educators have worked to provide learning opportunities that transcend the classroom walls, and have been challenged to think about tools, resources, and interactions in new ways. As an educational field, we have an opportunity to consider new ways of addressing equity in PK-12 STEM teaching and learning. In this presentation, we'll provide examples of how our team has leveraged best practices alongside creative and innovative approaches that embrace human-centered professional learning for STEM education.
Presenter
Paul Reimer
Executive Director, AIMS Center for Math and Science Education
AIMS Center for Math and Science Education
Paul has spent more than 20 years in public education as an elementary teacher, mathematics coach, and adjunct university instructor. In his current role as Executive Director of the AIMS Center for Math and Science Education, Paul's work explores innovations in the design and implementation of professional learning with early childhood teachers in STEM domains. Drawing on situative perspectives of learning, Paul's research utilizes design-based methods to examine play as an embodied approach to learning across ages and contexts. He is a Ph.D. candidate in the Educational Psychology & Educational Technology program at Michigan State University and currently serves as Co-Organizer of the Mathematical Play working group for the North American Chapter of the International Group for the Psychology of Mathematics Education (PME-NA). Paul lives in Fresno, CA with his wife and three teenage children.

@aimscenter

@aimsed, @reimerpaul
Co-Presenter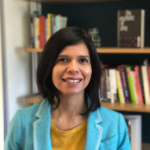 Aileen Rizo
Aileen has worked in math education for 20+ years. She has served in state capacities with the California Department of Education and various community organizations. She has earned two master degrees - one in Educational Technology and another in Mathematics Education, and is currently a PhD student in STEM education at Texas Tech University. Additionally, she is an adjunct faculty member at Fresno Pacific University teaching both math and engineering courses. Aileen's work in the STEM fields fueled her to realize the importance of providing young children with powerful educational experiences and the need for advocating for the equity of women and girls within these fields.

@aimscenter

@aimsed, @AileenRizo
Session Themes
This session is good for: Campus Administrators, District Administrators, Instructional Coaches, District Professional Development Staff, Teachers (K-5), Teachers (6-8), Teachers (9-12)