Session Date and Time: 6/30/20 11:15 AM CST
Session Number: 264
Mental Models
This session aims to guide the complex and critically important conversation around implicit bias. Educators need to know that no one is immune to implicit biases and that they are actually one of our shared characteristics. The key is to be aware of the biases and to monitor them. We will discuss how biases are formed based on our life long mental models and effective ways to address them because ignoring our unseen biases guarantees that challenges will get worse.
Presenter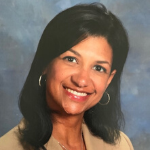 Dr. Colina Poullard
Director of Digital Education and Innovation
Harris County Department of Education
Dr. Colina Poullard is the Curriculum Director for Digital Education and Innovation for the Teaching and Learning Center at HCDE. She has a combined 20 years of Education and Media Experience. Dr. Poullard is a national speaker who specializes in using humor and interactivity to encourage discussion on difficult topics.

Colina Bushnell-Poullard

@poullard_colina

Dr. Colina Poullard
Session Themes
This session is good for: Campus Administrators, District Administrators, Instructional Coaches, District Professional Development Staff, Teachers (K-5), Teachers (6-8), Teachers (9-12)
This session poses answers to the following questions:
How do you know what you need to learn to grow professionally?
How do you move from compliance driven participation to authentic engagement in professional learning?
How do you have productive collegial conversations?