Session Date and Time: 6/30/20 1:00 PM CST
Session Number: 274
From Required to Desired to Needed: Protocol to Engage Teams to Transformation
It started with a spark from our Dean. No action. The spark was re-ignited with a leadership change. Same Dean. Same spark. New direction. Azusa Pacific University's Division of Teacher Education embarked upon a 3-semester journey to implement a new Clinical Practice observation process. The process required a mind- and heart-shift from synchronous face-to-face observations to asynchronous video-captured feedback, reflection and assessment. University Mentors were apprehensive they would lose their cherished relationships with their Teacher Candidates (e.g., student teachers), while the Division of Teacher Education was promoting increased reflection and feedback. We began the implementation with individuals resistant to the change and ended this Spring 2020 with a team embracing and grateful for the new process that supported our Teacher Candidates through the COVID-19 K-12 distance learning pivot. We will explore how stakeholders worked together to move from a required process change to this desired and then needed transformation. The protocol is relevant to major and minor process changes involving large and small teams. Participants will be encouraged to share and connect to their stories.
Presenter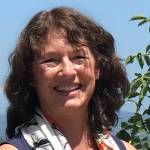 Dr. Maria Gross
Director of Clinical Experiences/Assistant Professor
Azusa Pacific University
Dr. Gross is a career changer: engineer to teacher to teacher educator. She has taught middle/high school math & science, community college engineering & math, and math methods before leading the Teacher Credential Program at City University of Seattle. Her research at Azusa Pacific University focuses on enhancing pre-service teacher clinical experiences through enhanced coaching and critical reflection.

https://www.linkedin.com/in/maria-rumbaugh-gross-21779b10/
Session Themes
This session is good for: Campus Administrators, District Administrators, Instructional Coaches, District Professional Development Staff, University Field Supervisors, University Administrators
This session poses answers to the following questions:
How do you move from compliance driven participation to authentic engagement in professional learning?
How do you take a small success in professional learning to full scale?
How do you get people started engaging in professional learning?