Session Date and Time: 6/30/20 1:00 PM CST
Session Number: 278
Designing Meaningful Professional Learning
In this learning experience, I will share practical ways to engage and empower audiences through a framework that prioritizes designing experiences over simply planning activities. Throughout the session, I will share simple ideas that can be implemented into any professional learning experience to make it meaningful for those that are involved.
Presenter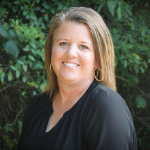 Andi McNair
Digital Innovation Specialist
ESC Region 12
Andi was a classroom teacher for 16 years before pursuing her passion to change education by sharing practical ways to engage and empower today's learners. She was named one of the Top People in Education to Watch in 2016 by the Academy of Education Arts and Sciences. Andi has published Genius Hour: Passion Projects that Ignite Innovation and Student Inquiry, A Meaningful Mess: A Teacher's Guide to Student-Driven Classrooms, Authentic Learning, Student Empowerment, and Keeping It All Together Without Losing Your Mind, and Ready-to-Use Resources for Genius Hour in the Classroom: Taking Passion Projects to the Next Level.